📰 Is it time to start B-Team juniors?
...and CarJitsu is the stupidest thing ever and I won't hear otherwise
Welcome to Tap Nap & Snap - the newsletter that's here to remind you life is short. Eat the donut, drink the wine and heel hook the white belts. No regrets. 🍩 
Here's what we've got today:
Is it time to start B-Team juniors? 👦 

CarJitsu is the stupidest thing ever and I won't hear otherwise 🚘

Our first instructional on 'How To Pass The Old Brown Belts Guard' 👴 
Last weekend's ADCC East Coast Trials gave us more big names and scandalous upsets than the Panama Papers 😬 #jitsandpoliticsdontmix
This is always billed as one of the biggest events on the road to ADCC and with 850+ competitors hugging it out over 2 days, it did not disappoint 👍
It's not just big in terms of numbers though - it has historically brought out some of the highest calibre grapplers on the circuit, with both Kade Ruotolo and Giancarlo Bodoni getting an ADCC ticket at the East Coast Trials last year and going on to take the gold 🥇 
Time will tell if this year's crop goes on to do the same, but before we get ahead of ourselves, here are the Tap, Nap & Snap highlights from the weekend 🎥 :
Dorian Olivarez, a purple beltch who's still in high school 🤯 takes out the likes of Ethan Crelinsten and wins the bracket - giving himself the chance to become the youngest ADCC champ ever! (you know, IF he wins and all that). Probably time for Ethan (& Nicky for that matter) to head back to B-Team juniors too…😬 

Speaking of juniors 🧒  - the world's largest junior, Dan Manasoiu redeems his loss at the Euro Trials and snags a win in the 99kg+ bracket. Maybe, juuust maybe an ADCC medal will get him into the big boys club! 🤷‍♂️

Jacob Couch hillbilly hammers his way through the 88kg division - slapping on 7 subs in all 7 matches 🔨🤕 and looking as sharp as anyone out there
There were also pleeenty of other epic scraps that are worth a look - from the champions as well as those that didn't get the top spot, such as this sequence from Kody Steele 🔥 
And for the talented few who got their tickets at this event, there are many big names looking to get their second chance at the upcoming West Coast trials including the B-team triple threat of Jay-Rod, Nicky Ryan & Ethan, New Wave's Oliver Taza & Helena Crevar as well as William Tacket & Elder Cruz just to name a few.
The stage is now set for a fiery West Coast trials 😎 
What's Happening On The Mats:
Tainan ditches the PJ's

🥋

 
For the Gi-lovers among you - Tainan Dalpra will already be a very familiar name.
He's had a phenomenal 2023 so far, extending his black belt record to 71-2 with multiple gold medal performances and only one loss. 
It seems he must be sick of the constant laundry 🧺 that comes with being a Gi player though and has just announced he plans to make his No-Gi debut at the upcoming WNO 21 event on November 30.
Tainan's success in the Gi comes largely from a near-unstoppable passing game and epic top control resulting from … well, strong Gi grips 🧐 
He hasn't planned his No-Gi career launch on 'legendary difficulty mode' though as his opponent, while not to be underestimated, is the much lesser-known Troy Russell - a black belt under the always dangerous Rafael Lovato Jr.
Russell is apparently well-versed in the dark arts leg lock game and Tainan will be grip-less for once - so could this be a Dalpra upset in the making? 🤷‍♂️
If you think the IBJJF sucks, you haven't seen 'CarJitsu' 🤦‍♂️
Yep. CarJitsu. It's exactly as it sounds. It's like Uber meets Death Race…in spandex and Gi pants.
If you've ever watched a match and thought 'Gee, that's a bit of a silly rule, I wish they'd just let them fight in the front seat of a small car' - then, this is for you ✅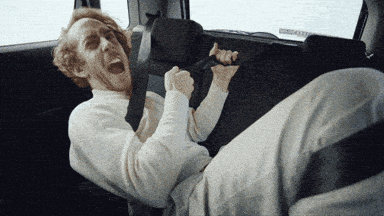 I'll let you make up your own mind about it as you watch one of their 'Championship Matches' 🤨 in the clip below 👇 - but not before trying to convince you that it's the stupidest thing to happen to jiu-jitsu since banning eye pokes gyms charging for stripes.
In doing everything possible to learn jiu-jitsu without actually going to class, the two blue belts below will show you the finer details of CarJitsu - from warming up your seatbelt un-buckling technique to claiming you have the edge over your opponent as you've 'spent a lot of time in cars as a detailer' 😂 
Maybe I'm just salty as it reminds me of too many sh*tty family road trips... and then again, maybe I'm right and it's just really really stupid 🙄
This is as close as you can get to the Blue Basement without getting staph

🦠
Renzo Gracie's 'Blue Basement' is simply iconic 🏰 
Occupying the dark and dank bottom level of the 15,000-square-foot Renzo Gracie Academy in the heart of New York City, the Blue Basement is responsible for pioneering some of the sport's most effective techniques, best athletes and dishing out a whole lotta staph 😬 
Renzo is world-famous in his own right, but the Blue Basement is probably most famous at this point for being the crucible of the 'Danaher Death Squad' (and all of the ensuing drama since that we all know and love 😍)
If you'd love to lay eyes on this BJJ institution but can't quite foot the bill 💸 on a trip to NY right now, why not take a quick guided virtual tour!? 👇
All the benefits (except…training), none of the costs and zero chance of infection ✅ 
Do Less. No, Wait, Do More:
The Good Option: Develop The 2nd Best Triangle In Your Gym
The triangle is basically the only bit of geometry ⚠️ you'll ever need to know when it comes to BJJ - but you'll need to know it well.
It may seem simple (only 3 sides? pfft, easy) but if you don't quite get it right, a good opponent will slip the elbow and escape or even worse, stack pass and fold you like human origami 😣 
In the clip below, Bernard Faria runs through what he calls 'the coolest' jiu-jitsu technique he learned from Craig Jones, showcasing a few small adjustments that make it super tight and harder to escape.
As the owner of BJJ Fanatics, Bernardo has probably seen more techniques than anyone at this point - so take a few minutes and have a little look 👇 👀 
The Not-So-Good Option: Chugging Too Much Pre-Workout Before Open Mat
Don't ever be mistaken - there is definitely such a thing as too much pre-workout.
You can quickly go from having the energy of 10 men to having a mild heart attack in one extra scoop 😳
If you get your dosage just right though, you'll basically go super saiyan 🔥 and tear through your enemies like a chainsaw through paper.
Things That Keep You Up At 2 AM:
Let's get it out in the open - BJJ ain't cheap.
From your membership fees (and maybe your kids too) to your therapy sessions after getting tapped by the new white belt 😔 - the $$$ can stack up.
Not to mention the gear - but, this is where we can help ✅ 😎 
This week's question is about which brand you'd like to see us do a giveaway for?
In launching our first giveaway ever, we need to make sure it's for gear that you actually want - so it's up to you to tell us 👇
Entering the giveaway will require you to refer one of your BJJ-loving friends. That's it. That'll be all you have to do

Make sure you vote for the brand you want below. We will only run the giveaway if enough people vote and tell us they will get involved 👍
This week's big question: ⬇️
Which Brand Are You Most Interested In Seeing Us Do A Gift Card Giveaway For?
Last week we asked you - "Which Of The Following BJJ Athletes Do You Think Would Do The Best In A Move To MMA?"
60% of you said - 👑 Gordon Ryan

20% of you said - 😎 Kade Ruotolo

20% of you said - 🍝 Mikey Musumeci
For what it's worth - my money is on Kade. For one, I think he's the most likely to actually make the move and secondly, he's a hell of an athlete 💪 
And they say there's no money in coaching huh 💰 😎 🚎 
By sacrificing everything, you too, can … sacrifice everything.
It's a short course, and doesn't end well for you.
Think you've got the spiciest BJJ memes going around? Hit reply, send them through to get them featured 🔥 
Being able to keep a secret is a great attribute 🤫 - but not when it comes to telling your BJJ buddies about this newsletter.
If you click that big red share button below 🟥 - you can:
Help us grow so we can spend more time creating unbeatable memes (everyone wins)

Bring some friends into the fold so they too can get their weekly BJJ newsletter fix

Score yourself some of our epic free referral merch as a massive thank you from us

& … sleep easy at night knowing you've done a damn good deed.

 
So, do yourselves, your friends and us a favour and help spread the word for us using the link below ⬇️
…and obviously, much much more
How'd We Go?
Are we on the money? Or are we lacking some pizzazz?